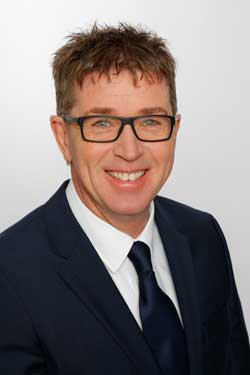 Graham Martin
Chairman & CEO EnOcean Alliance Inc.
Graham is a veteran in the semiconductor industry with 25 years experience in analogue and RF solutions at various Engineering, Sales and Marketing positions in USA, GB, Germany, Austria and Norway. Before joining EnOcean he was a worldwide pioneer in low power wireless sensor networks at leading start-up Chipcon (purchased 2006 by Texas Instruments) where he conducted the worldwide business development activities, served as President of Figure8Wireless and was Vice President of the ZigBee Alliance. Graham studied in USA and GB and is a Physics Graduate from the University of Edinburgh, Scotland.
Frank Neudecker
Vice Chairman EMEA & Board Member
Frank Neudecker has an engineering degree in EE/Mechatronics from TU Darmstadt. Frank started his career in R&D, first in electronic design, working on innovative test equipment for combustion engines, later as well in mechanic design. Further stations brought him in contact with Building Automation, when he was the head of the electronic department of Becker Antriebe GmbH, a German producer of electrical drives and controls for industrial doors, shutters and blinds. His ability to explain and present complex technology took him step by step from R&D to Marketing and Sales. Just recently, before joining Thermokon he was responsible for international sales of sensor and data acquisition systems for testing vehicle dynamics to the automotive and tire industry in the EU, Africa, Australia and South America. Today he is responsible for Thermokon's Export and Marketing and the cooperation of the experienced EnOcean pioneer Thermokon with the EnOcean Alliance.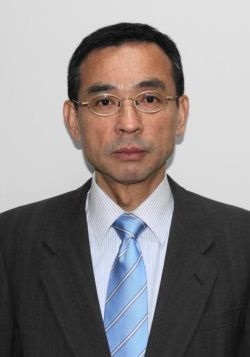 Kazuyoshi Itagaki
Vice Chairman Asia
Kazuyoshi Itagaki is Sales Manager of EnOcean in this region. One of his responsibilities is to educate the local market and relevant industries on the energy harvesting wireless technology. In this effort Kazuyoshi Itagaki can draw on his extensive professional experience in the telecommunication and chip industry. From 2004 to 2011 he was Vice President Product Management at Deutsche Telekom K.K. (Japan) and Deutsche Telekom AG (Germany) respectively. Before joining Deutsche Telekom he worked as Product Marketing Manager for Intel's Computing Handheld Group Products in Japan and the US. Other positions he has held include Group Leader of PC audio business operation and multimedia products at Asahi Kasei Microsystems Co., Ltd. and Marketing Development of optical disk as well as Researcher for optical disk recording materials at Asahi Chemical Industry Co., Ltd. Kazuyoshi Itagaki holds a master degree in Materials Science and Organic Metal Chemistry from Toyohashi University.