Graham Martin, Chairman & CEO EnOcean Alliance
The home is becoming more and more intelligent. A broadening range of devices and professional system solutions bring a user-friendly, connected home within easy reach. This article aims to explain exactly what a Smart Home is, which features and functions can be profitably networked and why wireless technology is the perfect solution.
Smart Homes offer their occupants enhanced comfort and increased security. They optimise energy consumption and reduce costs. The sustained upwards trend towards intelligent homes is, therefore, no surprise, as a glance at the Smart Home market in Germany will confirm. According to Statista, turnover for 2020 reached 4.272 million Euros. In 2024, turnover is expected to reach 6.686 million Euros. This reflects a yearly growth rate of 11.8%.
What is a Smart Home?
Smart Home is professional building automation for the home. Different types of technical appliances form a network, interact amongst themselves, and can be controlled externally. Information gathered by the network can be transmitted via a central control unit. Alternative definitions include Smart Living, Connected Home, House Automation, and eHome. Automation solutions for senior citizens are usually referred to as advanced Ambient Assisted Living (AAL).
How does a Smart Home function?
A professional Smart Home is an intelligent system that networks individual (sensor and actuator) components. This forms the technical basis for automated control and flexible operation of home technology on the basis of comprehensive data harvesting. For example, efficient heating control requires precise monitoring of individual room temperatures.
As a rule, a central control unit connected with the internet – frequently referred to as "hub" or "gateway" – processes sensor-generated data, compares it with user-specific reference values, and issues actuator commands e.g. to lights or heating radiator valves. The operation may take place via a wall-mounted display, smartphone, or tablet computer. Alternatively, a room-by-room operation may employ simple switches or local remote-control units.
Networked home technology enables intelligent control of various areas, mainly: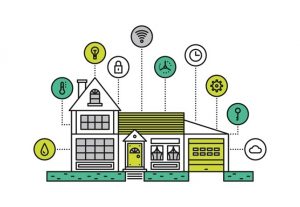 Lighting
Shading
Heating, Cooling, Ventilation
Security
Home Entertainment
Information Technology / Telecommunications
Charging Stations for e-mobility
It's important to grasp that it takes far more than the use of individual intelligent devices, such as voice assistants or smart meters, to make a home into a Smart Home.
Which advantages does a Smart Home offer?
Comfort. The connected home allows for customised light and temperature conditions according to individual preference. Room temperature can be adjusted according to the number of persons within defined spaces, in accordance with pre-determined routines or local weather forecasts. Some devices can analyse heating performance on the basis of user habits and can modify heating patterns accordingly after a self-learning phase. Air quality can be continuously monitored – e.g. for CO2 loads – and controlled. Lighting can be automatically adjusted according to room occupancy and time of day. Individual scenarios can also be defined. The possibility of remotely managing a broad range of individual Smart Home appliances via smartphone or tablet also adds comfort and innovation.
Security: the connected home monitors itself. Sensors detecting movement, smoke, fluid leaks, and broken glazing work together with cameras and alarm sirens to warn of critical situations. If you leave home and later want to know whether you have left a door or window open, you can simply check using your smartphone. Connected intruder alarm systems make the home a safer place. Automated camera systems can warn of intruders via SMS, or send photos and video clips to the homeowner's smartphone.
Energy: smart heating systems save energy through intelligent networking – thermostats can detect the human presence or react to changing temperatures and light conditions. Heating can be automatically turned down when the room is not occupied, or when a window is left open. An ideal temperature can be attained and maintained constant. The central command for non-essential electrical appliances allows for simple energy-saving, turning everything off at the flick of a switch.
What does wireless technology bring to the Smart Home?
Connecting many different devices through wireless technology brings great benefits. Installation requires neither expensive cables nor disruptive masonry work. Cable ducts are not required. Restructuring works in older properties can be carried out economically, with savings of up to 70% compared with conventional cable-based solutions. In new buildings, the implementation of wireless technology can save an estimated 15% (source: EnOcean).
Once installed, wireless technology allows for unparalleled flexibility. Sensors and switches can be added at will or moved to a new location. This opens new possibilities, not only for the homeowner but also for the architect and planner. Thanks to wireless technology, devices can even be placed upon thin partitioning walls and glass surfaces.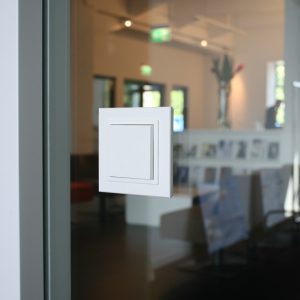 Switch on glass – no problem thanks to radio technology
EnOcean's batteryless wireless technology occupies a special place in the market for wireless solutions. Devices employing this technology require neither cables nor batteries or external power. Energy harvesting allows these components to draw energy from their environment – generated by movement, solar energy, or differences in temperature. The ultra-low-power data transmission has a range of up to 30 meters indoors and 300 meters outdoors. Batteries are substituted by miniaturised solar cells, electromechanical power converters or thermal converters supplying the necessary power for data transmission. This self-sufficient technology eliminates the need for the costly, time-consuming maintenance which battery-powered systems require (together with the need to stock replacement batteries and dispose of exhausted ones). Considering that the typical Smart Home employs 100 to 200 sensors, and taking into account that batteries typically die when temperatures are at their lowest (i.e. at night) – self-powered devices make a lot of sense.
Self-powered wireless technology has no disadvantage at all compared with conventional cabled solutions: it's totally free from maintenance, highly reliable, extremely flexible, and easily installed.
What do open wireless standards and interoperability mean?
In contrast to "closed" Smart Home systems based upon manufacturer-specific communication standards, an open standard such as the EnOcean wireless protocol guarantees total flexibility and forms the basis for the seamless expansion of Smart Home technology together with increased levels of automation.
The wireless EnOcean standard (ISO/IEC 14543-3-10) is optimised for ultra-low-power data transmission and energy harvesting. Together with dedicated application profiles ("EnOcean Equipment Profiles"), it forms the basis for seamless, interoperable wireless technology. A multitude of wireless devices from hundreds of different suppliers can work together as a team. In Europe, the pulse-signal-specific 868MHz frequency is employed.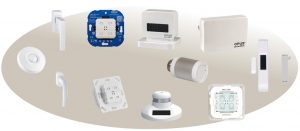 The interoperable EnOcean ecosystem includes batteryless switches, "Smart Windows", temperature/humidity/light sensors, occupancy detectors, a broad range of actuators and gateways as well as complete Smart Home systems.
The professional Smart Home is a flexible system that can be expanded according to changing homeowner demands and technological progress. A security system can be later expanded to include comfort-oriented features. Basic components, such as the central gateway unit, can be retained for long-term use. Occupancy sensors originally fitted as intruder alarm system components can additionally be used to govern ambient lighting at a later stage. This concept applies to all building automation components, from the sunblind to the heating system.
And what about security in the Smart Home?
Needless to say, data security is the foremost priority. Unauthorised access to sensitive data and to Smart Home control systems must be excluded at all costs. Therefore, intelligent networking within the home calls for additional safety measures for wireless systems.
In this respect, robust data encoding plays a central role. Each and every EnOcean-based device is identified by a unique 24-bit ID code. Data transmission can be encoded using the AES 128-bit standard. Perpetually-changing rolling codes offer effective protection against so-called replay attacks and signal to eavesdrop.
Are wireless-based Smart Homes healthier places to live?
Research by the independent ECOLOG Institute reveals that the high-frequency emissions generated by batteryless wireless devices are in the order of one 100th of the emissions generated by conventional cabled solutions. Moreover, EnOcean data is transmitted in the space of a few milliseconds and only when needed – unlike other wireless technologies such as Wi-Fi. This enables the unproblematic use of wireless technology in the presence of electro-sensitive persons. Last but not least, EnOcean devices do not generate low-frequency electromagnetic emissions.