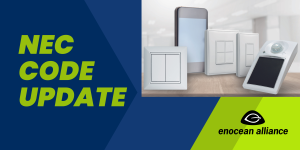 San Ramon, June 12th, 2023. EnOcean Alliance offers self-powered light switches as solution to the new US National Electrical Code requirements effectively making stand-alone battery-powered switches obsolete in new 2023 NEC Code 210.70 compliant installations
New updates to the National Electrical Code (NEC) in the USA mean self-powered wireless switches and wall-mounted control devices using standards such as EnOcean are now the only viable stand-alone wireless switch solution for smart buildings. The new measures, which are designed to ensure the safety of battery-powered switch and wall-mounted control devices in the event of battery failure, require switches and wall-mounted control devices to be permanently connected to a constant power supply or have a separate back-up solution for automatically energizing the lighting outlets upon battery failure. This has effectively rendered obsolete in the USA the vast majority of wireless switches, which are solely battery-powered.
Under the 2023 edition of the NEC, switches and wall-mounted control devices can no longer rely exclusively on a battery unless a means is provided for automatically energizing the lighting outlets upon battery failure. As EnOcean Alliance's wireless switches and sensors generate their own power by harvesting energy from their environment, they are self-sufficient and independent of cables or batteries.
"The requirement for back-up AC power defeats the object of battery-powered switches," said Graham Martin, Founder, Chairman & CEO of EnOcean Alliance. "EnOcean-based switches and sensors don't require batteries or mains power to guarantee functionality. They offer a better alternative that is sustainable, cost-effective, easy-to-install and maintenance-free while ensuring compliance with the latest NEC requirements."
EnOcean devices derive their energy from their environment using miniaturized energy harvesters and ultra-low power wireless technology. A tiny electro-mechanical kinetic energy converter inside the battery-free switch modules utilizes small movements, such as the push of the switch, to generate enough energy to send a radio telegram command to a matched receiver module, e.g., in a lightbulb socket. EnOcean-based sensors can also harvest energy from room light, temperature differences or magnetic fields.
EnOcean wireless switches and sensors are suitable for use in all types of buildings, from smart homes to industrial applications, as well as for the Internet of Things (IOT). They can be placed on virtually any surface, including glass, making it easy to restructure existing spaces with minimal disruption. Additionally, there is no need to purchase, stockpile, install, replace, and dispose of expensive batteries, making them an environmentally friendly solution. They also offer lower fire risks and a reduced carbon footprint as they don't require cabling.
Similar to wireless standards such as Wi-Fi and Bluetooth, the internationally standardized EnOcean radio norm is especially optimized for wireless solutions with particularly low energy consumption, which are covered by energy harvesting power. Each EnOcean radio module has a 32-bit unique identification number, meaning many sensors can be operated in parallel without any problems. Thousands of fully interoperable, self-powered EnOcean wireless switches and sensors for building monitoring and control are available and have already been installed in millions of smart homes and all types of buildings throughout the world.
Adopted in all 50 states, the NEC is the US benchmark for safe electrical design, installation, and inspection to protect people and property from electrical hazards in residential, commercial and industrial settings. The NEC codes are updated every three years.
About EnOcean Alliance
The EnOcean Alliance is an international association of leading companies in the building and IT industries founded in 2008. The open, non-profit organization is committed to enabling and promoting interoperable, maintenance-free, proven eco-systems based on the wireless EnOcean radio standard (ISO/IEC 14543-3-10/11). With their decades of experience, EnOcean Alliance members strive to co-create a healthy, safe and sustainable environment in Smart Homes, Smart Buildings and Smart Spaces for the benefit of all. The EnOcean Alliance headquarters are located in San Ramon, California.
Press contacts
Evelyn Back
EnOcean Alliance
M +49 (0)176 636 13 964
Kerry Marsh
Napier PR
+44 (0) 1296 628180