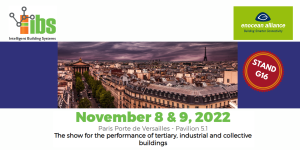 San Ramon (USA)/Paris (F). October 27th, 2022. IBS event on November 8th and 9th in Paris is the show for the performance of tertiary, industrial and collective buildings – connecting building professionals and (digital) solution providers in the French capital. In this context, the EnOcean Alliance and selected members will present maintenance-free solutions for Smart Homes, Smart Buildings and Smart Spaces based on the EnOcean wireless standard (ISO/IEC 14543-3-10).
Energy transition and digital innovation are the focus topics of this year's event. IBS 2022 will be resolutely dedicated to digital solutions allowing, in the long term, carbon neutrality while offering comfort, cybersecurity and valuable services to occupants.
The EnOcean Alliance, which has more than 400 members worldwide, is one of the most successful alliances in the area of smart building monitoring and control. The non-profit organization standardizes and develops intelligent building solutions with integrated energy harvesting technology based on the EnOcean wireless standard (ISO/IEC 14543-3-10). More than one million buildings all over the world now have wireless networks of this type, making EnOcean the international reference technology when it comes to wireless standards for building automation.
Presenting wireless and sustainable solutions for smart buildings at our joint pavilion are for example EnOcean Alliance members Aruba, Deuta Controls, EnOcean, Ogga and Vesta Systems. In addition, multiple EnOcean Alliance members are presenting at their own booths, e.g. Distech Controls, Honeywell, Sauter, WAGO, Decelect, Schneider Electric, Hager, Loytec, Niko, NODON, S+S Regeltechnik, Eltako, Siemens, Thermokon, Wieland and WIT.
The EnOcean Alliance is also hosting a seminar covering energy efficiency and CO2 reduction in Smart Buildings using interoperable open systems based on batteryless, wireless technology on Tuesday, Nov 8th from 15:45 to 16:30 including speakers Emmanuel François (EnOcean), Gregory Gatineau (Aruba), Stéphane Gagnat (Ogga) and Wilfried Vitre (I-O Concept).
Please click here to register.
About EnOcean Alliance
The EnOcean Alliance is an international association of leading companies in the building and IT industries founded in 2008. The open, non-profit organization is committed to enabling and promoting interoperable, maintenance-free and proven eco-systems based on the wireless EnOcean radio standard (ISO/IEC 14543-3-10/11). With their decades of experience, EnOcean Alliance members strive to co-create a healthy, safe and sustainable environment in Smart Homes, Smart Buildings and Smart Spaces for the benefit of all. The EnOcean Alliance headquarters are located in San Ramon, California.
Press contacts
Evelyn Gilde-Back
EnOcean Alliance
M +49 (0)176 636 13 964
press@enocean-alliance.org