San Ramon (USA)/Paris (FR). (2 October 2023) The EnOcean Alliance will attend the Intelligent Buildings Show (IBS) 2023 in Paris, 17-18 October, sponsoring the event, showcasing the latest products from its partners, and hosting a discussion on the way forward to a more sustainable future.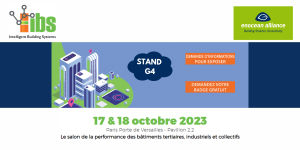 With a focus on decarbonization and the reduction of energy consumption, the 13th edition of the IBS show will be at the crossroads of innovation and resilient technologies capable of meeting the challenges of regulations and sustainable comfort, for the buildings of the future. The potential for energy savings and raw material resources is immense and IBS will showcase the latest available technological solutions to create sustainable and smart buildings.
Visitors can meet EnOcean Alliance at booth G4, where organisation members and partners will also present their latest innovations for smart homes, buildings and spaces, built on the EnOcean wireless standard. Companies at the show include HPE Aruba Networks, Decelect, Distech Controls, Nodon, LONMark, BACnet, WAGO, Sauter, Giga Concepts, and Hager.
Being a gold event sponsor and conference sponsor, EnOcean Alliance will present a conference from 11:00am to 11:50am CEST on the opening day, moderated by Alliance vice chairman Emmanuel Francois. The conference will discuss how to digitalize buildings and increase energy efficiency without adding costs for society, and techniques for instrumenting smart buildings quickly and sustainably.
"Knowing that buildings, overall, consume 40% of energy and emit 36% of total greenhouse gas in Europe, the smart building solutions being presenting by our Alliance members at IBS enhance sustainability and help reduce CO2 emissions," commented Graham Martin, Chairman and CEO, EnOcean Alliance. "EnOcean technology is making a sizeable contribution already. We calculated that equipment containing this technology, currently installed worldwide, is saving over 1.4 million tons of CO2 per year. We are striving to save even more through extra deployments and continued technological development."
The portfolio of ready-to-use solutions includes wireless sensor solutions, kinetic switches, gateways, and actuators that enable control and monitoring of systems and the environment in smart buildings. With energy harvesting built-in, they are free from the constraints of powerlines and batteries, which eases installation, maintenance, flexibility, and scaling. The sensors have standardized profiles, which ensures interoperability with other third-party equipment such as smart lights and smart heating controls.
Visit EnOcean Alliance and its partners at booth G4, IBS 2023, Paris, Porte de Versailles, 17-18 October 2023.
About EnOcean Alliance
The EnOcean Alliance is an international association of leading companies in the building and IT industries founded in 2008. The open, non-profit organization is committed to enabling and promoting interoperable, maintenance-free and proven eco-systems based on the wireless EnOcean radio standard (ISO/IEC 14543-3-10/11). With their decades of experience EnOcean Alliance members strive to co-create a healthy, safe and sustainable environment in Smart Homes, Smart Buildings and Smart Spaces for the benefit of all. The EnOcean Alliance headquarters are located in San Ramon, California.
Press contacts:
Evelyn Back
EnOcean Alliance
M +49 (0)176 636 13 964