The EnOcean Alliance together with over 25 members and partners will be exhibiting self-powered wireless solutions for smart and cognitive buildings based on the EnOcean wireless standard and the R2S (Ready2Services) specification from the Smart Building Alliance (SBA).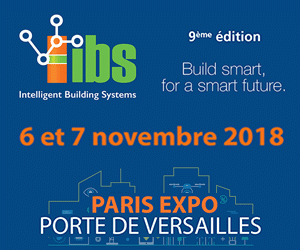 San Ramon, CA – October 31, 2018 – The 9th edition of  Intelligent Building System (IBS) 2018 (Paris, November 6-7, 2018) with a theme SMART BUILDING: Ready 4 a Better Life is an event that has to be visited. The exhibition will have around 200 exhibitors and more than 7000 visitors from the building professional community will attend. 15 partners will exhibit at the EnOcean Alliance/ SBA booth #D29-34 and additional further 10 members will have their own booth at the event promoting the standard. The member companies will showcase interoperable solutions highlighting the benefits of digitalization across all areas within a building automation system such as intelligent lighting and HVAC control as well as energy management.
Visit the EnOcean Alliance seminar "The IoT radio standard for cognitive, flexible and multi-purpose buildings"
EnOcean Alliance is giving a seminar "The IoT radio standard for cognitive, flexible and multi-purpose buildings" at the event on November 7th, 2018 start at 12 o'clock, showing the technology and latest developments and deployments: 21st-century building must be multi-use, hybrid, modular and replicable. The reconfiguration of spaces to be almost instantaneous. To meet this demand, it is imperative to overcome all wiring in the walls and have completely modular sensors and transmitters. This induces wireless solutions and ideally without a battery because even with autonomy close to 10 years for some sensors it is just inconceivable to anticipate changing a billion batteries in buildings. Interoperability and security are also key criteria. As many criteria, the EnOcean standard knows perfectly meet. Introducing the technology ecosystem and case study in residential buildings, offices, hotels, etc.
EnOcean Alliance – the self-powered wireless standard for smart buildings
Real Estate and facility manager companies are changing towards data-driven service models. EnOcean Alliance solutions can offer the greatest flexibility and lowest lifetime cost by combining the ease to install wireless solutions with maintenance-free operations, using energy harvesting technologies. In addition, the EnOcean Alliance offers the advantages of an extensive and established ecosystem of interoperable energy harvesting wireless sensor solutions that are available to intelligent buildings worldwide. These solutions help optimize the utilization of buildings, create new service models and make buildings more flexible, energy-efficient and altogether more cost-effective.
Installations using EnOcean batteryless wireless standard are rapidly expanding in France, with key construction companies such as Bouygues mass adopting the technology, local government specifying for commercial buildings and social housing and with Leroy Merlin offering in all of its DIY stores. Breaking down the barriers of isolated applications, the interoperable EnOcean Alliance ecosystem of more than 400 member companies over 1,500 products offer integrated systems that connect several building applications and at the same time collect raw sensor data to build innovative cloud-based services.
Maintenance-free sensor solutions based on the EnOcean wireless standard
Despite the huge improvements already realized, there is still huge scope for building automation to drive efficiency in building use. The majority of offices are only 60%-70% occupied during a working day and the majority of Real Estate is used less than 50% of the time. Digitalization is the key for buildings worldwide, helping facility managers to increase comfort, productivity, and efficiency of the building. The Internet of Things adds new dimensions to classic building automation by transmitting sensor data to cloud-based IT platforms that link the data with other information available on the Internet and smart data analysis tools.
Self-powered wireless sensor solutions based on the EnOcean wireless standard (ISO/IEC 14543-3-1X) introduced by the EnOcean Alliance, are perfectly suited to generate reliable sensor data, further enhancing the energy performance of buildings and driving a digital transition in buildings forward. This will result in innovative solutions and new service models evolving as well as bringing up new chances for building owners, insurance companies, facility managers and users.
In terms of digitalization of buildings, self-powered wireless solutions are essential to connect all areas within a building automation system, while at the same time simplifying installation and increasing flexibility and efficiency. Generating a large amount of reliable data and using it for building optimization, provides Real Estate and Facility Management companies with maintenance-free solutions to unlock the full potential of intelligent buildings and offer a better service to their customers.
EnOcean Alliance and IBS – the perfect fit for smart buildings
This new edition of IBS is part of a process of reflection and exchanges to promote a European vision of Energy and Building Management Building "resilient, inclusive and connected" through a comprehensive range of services to occupiers.  Furthermore, the opportunity to accelerate the development in the field of Smart Building being identified as a major player in this fast-growing sector.
Visitors to IBS 2018 can experience energy harvesting wireless solutions from various EnOcean Alliance members, including the following exhibitors:
ABB * Belimo * Decelect * Distech Controls * Engie Vertouz * EnOcean * Hager * Helvar * Honeywell * Kieback+Peter * Loytec * Nexelec * NodOn * OGGA * S+S Regeltechnik * SAIA Burgess Controls * Sauter * Schneider Electric * Serelec * Siemens * Thermokon * Trio2Sys * Ubiwizz * WAGO * WIT
About EnOcean Alliance
Leading companies worldwide from the building sector formed the EnOcean Alliance to establish innovative maintenance-free wireless solutions for the Internet of Things, which are used for automation solutions for sustainable building projects – making buildings more energy-efficient, more flexible and more cost effective. The core technology of the Alliance is energy harvesting wireless technology for flexibly positioned and service-free sensor solutions. The EnOcean Alliance aims to internationalize the energy harvesting wireless technology and is dedicated to creating interoperability between the products of OEM partners. The basis for this is the international standard ISO/IEC 14543-3-1X, which is optimized for wireless solutions with ultra-low power consumption and energy harvesting. More than 400 companies currently belong to the EnOcean Alliance. The headquarters of the non-profit organization is located in San Ramon, California. www.enocean-alliance.org