San Ramon (USA), March 2nd, 2023. Anyone who wants to learn about the latest developments in water, heat and air management in buildings will attend the ISH trade show in Frankfurt from March 13th to 17th. The EnOcean Alliance and selected members will also be there, of course, presenting wireless sensor solutions for Smart Homes and building digitalization based on the international EnOcean Standard.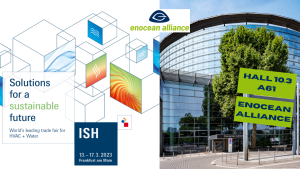 At the joint booth (10.3, A61), specialists from the EnOcean Alliance and its member companies EnOcean GmbH, LAE Engineering, Peha-Honeywell and Schulte-Schlagbaum will share their insights on ongoing projects for the smartification of homes and buildings and explain the benefits for building professionals and owners. Altogether more than 20 companies are presenting EnOcean-based solutions at ISH 2023.
This year's ISH focus will be on the following topics:
Sustainability – wireless technology for energy-efficient and healthy buildings: Overall, buildings account for 40% of energy consumption and 36% of greenhouse gas emissions in the EU. To achieve the climate targets set, energy-efficient buildings are absolutely vital. This also includes retrofitting existing buildings. Consistent use of building automation alone could save around 12% of total global energy consumption and 10% of all CO2. The experts from the EnOcean Alliance will provide an overview of current developments at the EU and German federal levels and explain what these requirements mean in terms of building automation and integrated energy-efficient operation.
Wireless standards for Smart Homes and Smart Buildings, a technology comparison: EnOcean Alliance experts provide an overview of established wireless technologies, discussing their most important parameters and preferred areas of application. They also explain how the EnOcean Alliance is collaborating with other organizations/ technologies, such as BACnet, LONMark and Matter to develop and implement open protocols for wide-ranging interoperability.
Celebrating 15 years of wireless Buildings Smartness
The EnOcean Alliance will also be celebrating its 15th anniversary at ISH 2023. The open non-profit organization was launched at the Light & Building Show in 2008 with the aim of promoting the development and marketing of interoperable, maintenance-free and sustainable system solutions based on the international EnOcean Standard (ISO/IEC 14543-3-10/11).
Graham Martin, founding CEO & Chairman of EnOcean Alliance, states: "Originally launched with 7 companies, the EnOcean Alliance now unites over 400 members worldwide and is one of the most successful alliances in the area of smart building monitoring and control. We are proud of our success story with millions of buildings now using our Standard, helping to save energy, reduce CO2 output and creating smarter and healthier buildings."
The EnOcean ecosystem of battery-less sensor solutions currently comprises 5,000 product variants that build on 1,500 basic products, with new ones being added all the time. The millions of buildings all over the world with wireless networks of this type help make EnOcean the international reference technology in wireless standards for building automation.
About EnOcean Alliance
The EnOcean Alliance is an international association of leading companies in the building and IT industries founded in 2008. The open, non-profit organization is committed to enabling and promoting interoperable, maintenance-free, proven eco-systems based on the wireless EnOcean radio standard (ISO/IEC 14543-3-10/11). With their decades of experience, EnOcean Alliance members strive to co-create a healthy, safe and sustainable environment in Smart Homes, Smart Buildings and Smart Spaces for the benefit of all. The EnOcean Alliance headquarters are located in San Ramon, California.
Press contacts
Evelyn Back
EnOcean Alliance
M +49 (0)176 636 13 964
press@enocean-alliance.org