The EnOcean Alliance expands and strengthens its position to digitalize building spaces and the Internet of Things (IoT)
San Ramon, CA, USA – May 22nd, 2019 – The EnOcean Alliance has significantly expanded, and strengthened its program to digitalize building spaces and the Internet of Things with the announcement that Microsoft  is joining the EnOcean Alliance as a Board and Promoter Member.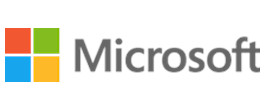 Successful cooperation to build the future of IoT
Thomas Frahler, Business Lead Internet of Things at Microsoft Germany said: "As a member of the EnOcean Alliance, we encourage innovation and standardization in intelligent building control. We are empowering businesses to adapt digital technologies quickly and build their own digital competencies to offer new services to their customers by sharing our expertise as a technology leader, sharing experiences of our own transformation journey and providing advanced platforms and tools. With our comprehensive IoT Platform we are simplifying the entry for companies into the Internet of Things, regardless where they currently are at and independent of cloud, software or devices."
"IoT brings us huge opportunities to improve all of our lives including comfort, security, energy efficiency and cost savings. To do this in buildings we need to digitalize building spaces to provide the necessary data required  as well as powerful AI analytic and representation tools. I see this therefore as a perfect marriage with EnOcean wireless and maintenance free interoperable sensors from multi-vendors providing the necessary data and Microsoft offering the perfect  platform solutions to analyze and optimize our buildings. We are very excited to welcome Microsoft as a new board and promoter member of the EnOcean Alliance. With Microsoft's long-standing expertise in cloud-based services and IoT, we have gained a very strong partner in the ecosystem. We are looking forward to a successful cooperation to build the future of IoT," added Graham Martin, Chairman and CEO of the EnOcean Alliance.
Broad ecosystem to fuel Azure Digital Twins
The EnOcean Alliance offers the benefit of a broad, proven ecosystem of 5.000 interoperable multi-vendor sensors and actuators for intelligent buildings, widely proven in over 1.000.000 buildings worldwide. These easy to install and maintenance free solutions help optimize the utilization of buildings, create new service models and make buildings more flexible, more energy-efficient and altogether more cost-effective. Microsoft offers the Azure Digital Twins, as the IoT platform that enables comprehensive models of the physical environment and its relationship with interaction between people, places and devices. First proof of concepts are currently in progress – for example as demonstrated at the ISH 2019 Expo in Frankfurt in March with partners Microsoft, Steelcase and T-Systems.
The EnOcean Alliance, which has more than 400 members worldwide, is one of the most successful alliances in the area of smart building monitoring and control. The non-profit organization standardizes and develops intelligent building solutions with integrated energy harvesting wireless technology. Its Board of Directors brings together representatives of leading international solution providers in the areas of building automation, the smart home and the Internet of Things (IoT), including BSC Computer, Digital Concepts, Eltako, EnOcean, Honeywell, IBM, Vertuoz by Engie and Vicos.
IoT data in real time 
The demand for smart building management systems is growing steadily, since work areas within the company that are not well organized or seldom used are becoming more and more difficult to justify financially. The Internet of Things makes it possible to create a digital twin, which represents building spaces and work spaces in the virtual world. Companies are currently investing heavily in modern, attractive work environments for their staff and in flexible concepts for new ways of working. They want to motivate their employees for many years to come and at the same time ensure high productivity and improve efficiency in their management practices. Using EnOcean based maintenance free wireless sensors data can be provided in real time via an IoT gateway to an IoT cloud platform where the data is analyzed, whilst a dashboard visualizes the results for decision-makers.
About EnOcean Alliance
Leading companies worldwide from the building sector formed the EnOcean Alliance to establish innovative maintenance-free wireless solutions for the Internet of Things, which are used for automation solutions for sustainable building projects – making buildings more energy-efficient, more flexible and more cost effective. The core technology of the Alliance is energy harvesting wireless technology for flexibly positioned and service-free sensor solutions. The EnOcean Alliance aims to internationalize the energy harvesting wireless technology, and is dedicated to creating interoperability between the products of OEM partners. Basis for this is the international standard ISO/IEC 14543-3-1X, which is optimized for wireless solutions with ultra-low power consumption and energy harvesting. More than 400 companies currently belong to the EnOcean Alliance. The headquarters of the non-profit organization is located in San Ramon, California.
Press contacts
Evelyn Gilde-Back
EnOcean Alliance
M +49 (0)176 636 13 964
press@enocean-alliance.org