The Ready2Services label was officially launched by the Smart Buildings Alliance in Paris (France) in June 2018, further supporting the development of intelligent buildings for smart cities. Self-powered wireless sensor solutions and the interoperable EnOcean ecosystem are key components in terms of enabling new innovative service models.
San Ramon, CA – July 19, 2018 – To enhance the energy performance of buildings and to drive digital transition in buildings forward, the Smart Buildings Alliance (SBA) officially launched their "Ready2Services" initiative in June 2018. The "Ready2Services" concept aims to evaluate the ability of buildings for multiple services, awarding buildings with a certain certification level whilst also creating the basis for implementing new service models. Self-powered wireless sensor solutions are a key component of this initiative. These maintenance-free solutions collect reliable data and can be flexibly expanded at any time, therefore further supporting the digitalization of buildings and enabling the implementation of innovative services. As interoperability and open standards are playing an essential role in the digitalization of buildings, the EnOcean Alliance with its broad ecosystem of interoperable devices using the EnOcean wireless standard (ISO/IEC 14543-3-1X) is an essential element of the "Ready2Services" initiative. The "Ready2Services" approach will be presented at the Smart Buildings for Smart Cities Summer Universities (September 5-6, 2018, Lyon, France) hosted by SBA, EnOcean Alliance and French association for integrators FFD.
More and more companies in the housing industry are already laying the foundation for digital functions in their buildings. A basic network can serve as a foundation for additional smart functions. At the same time, new service models can be derived.
Ready2Services label for intelligent buildings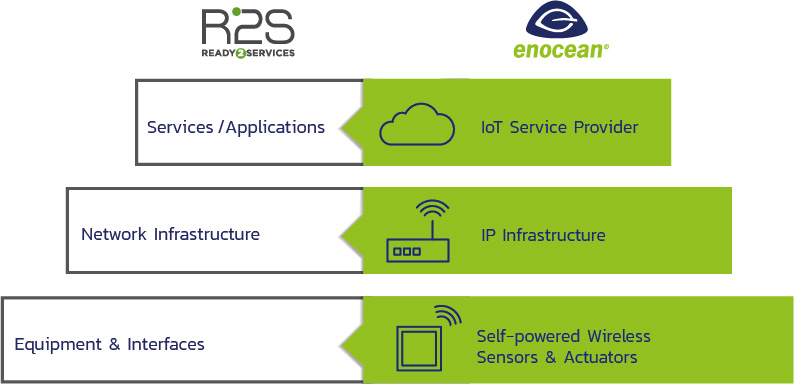 To drive digital transition in buildings forward, the Smart Buildings Alliance (SBA) in cooperation with Certivéa, a French certification body, presented the Ready2Services (R2S) label in Paris on June 26th. This new concept aims to evaluate the ability of buildings for multiple services. The Ready2Services approach is based on three layers including equipment and interfaces such as sensors; a network infrastructure such as gateways as well as services and applications e.g. cloud solutions. Each layer itself should be replaceable, therefore providing multi-vendor interoperability.
The certification process can be carried out in a real estate program during its design, implementation or operation phase. Depending on the rating, the project wins one of four certification levels, ranging from "base" to "three stars". Twelve buildings have already successfully received this certificate including BNP Paribas Real Estate, Ivanhoé Cambridge and Allianz Real Estate. Additionally, the Bouygues Construction building was successfully awarded certification, including self-powered wireless solutions using the EnOcean wireless standard, demonstrating that maintenance-free solutions on the EnOcean wireless standard are a perfect fit for the Ready2Service concept.
Building operators can now offer new automated service options to their tenants, for example in the form of an energy flat rate or payments according to the room temperature level per square meter of heated area. Here, the service provider provides the smart infrastructure in various packages e.g. security and refinances the investment, for example, by the energy savings achieved. Tenants benefit from more safety and comfort as well as increased flexibility and cost savings.
Self-powered wireless IoT solutions enabling a new era of building automation
Networked devices form the basis of the Internet of Things. They process large volumes of sensor data to make our everyday lives easier, safer and more comfortable. EnOcean´s self-powered wireless sensors are the eyes and ears of the IoT, as they collect the required data to operate large numbers of IoT devices efficiently, without any need of a battery. EnOcean products use the energy harvesting principle, in which energy is obtained from the surroundings, to supply self-powered wireless sensor networks.
Self-powered wireless switches and sensors for maintenance-free applications optimized for building automation play a key role for supporting the digitalization of buildings and enabling innovative services by providing reliable sensor data. Only maintenance-free and flexible solutions, which can be adjusted or expanded as needed, can provide the basis for implementing various service models.
These self-powered wireless solutions are based on the EnOcean wireless standard (ISO/IEC 14543-3-1X) introduced by the EnOcean Alliance on the sub 1 GHz band, which has proven to be a resounding success in building automation and smart homes, due to its high reliability and a radio range of up to 30 meters. In conjunction with intelligent IoT systems self-powered sensor solutions help optimize the utilization of buildings, create new service models and make buildings more flexible, more energy-efficient and altogether more cost-effective.
"The EnOcean Alliance is a pioneer in providing energy-efficient solutions and supporting the transition of smart to cognitive buildings. We offer a proven ecosystem of self-powered wireless sensors and field-proven solutions for every layer of the Ready2Services concept, providing maintenance-free solutions for decades. Therefore, the EnOcean self-powered wireless standard is the perfect fit for the Ready2Services standard for smart buildings", says Graham Martin, CEO and Chairman, EnOcean Alliance.
Smart Buildings for Smart Cities Summer University
"Interoperability, open standards and flexibility are the basis for enabling innovative new services. The EnOcean wireless standard perfectly meets these key requirements, therefore being fully in line with the Ready2Services concept. As soon as the IT infrastructure is available, new services can be offered by simply adding additional sensors. These sensors need to be maintenance-free, not requiring any cables or batteries. That´s where the strength of energy harvesting technology comes in, providing maintenance-free "fit and forget" solutions", explains Emmanuel Francois, President of Smart Buildings Alliance.
The first major post-launch event to showcase the Ready2Services initiative is the Smart Buildings for Smart Cities Summer Universities in Lyon, France (September 5-6, 2018), organized by Smart Buildings Alliance (SBA), EnOcean Alliance and FFD.
The event provides an excellent opportunity to learn and discuss about smart buildings in sustainable cities, including well-known exhibitors and representatives of the smart building and smart city area.
Additionally, the event enables visitors to learn more about solutions for smart and cognitive buildings, social housing and homes of the future including maintenance-free applications based on the EnOcean wireless standard. A number of EnOcean Alliance members will showcase self-powered wireless solutions based on the EnOcean wireless standard, for example ABB, Adeo, Airria, Avidsen/SmartHome, Bouygues, Damalisk, Decelect, Digital Concepts, Engie, EnOcean, Nexelec, NodOn, Schneider Electric, Serelec (Eltako), SmartHab, OGGA, Ubiant, Ubiwizz, ViCOS, WIT and Wago.
For more information, please find here the agenda of the Smart Buildings for Smart Cities Summer Universities.
About EnOcean Alliance
Leading companies worldwide from the building sector collected to form the EnOcean Alliance and establish innovative automation solutions for sustainable building projects – and so to make buildings more energy-efficient, more flexible and lower in cost. The core technology of the Alliance is energy harvesting wireless technology for flexibly positioned and service-free sensor solutions. The EnOcean Alliance aims to internationalise the energy harvesting wireless technology, and is dedicated to creating interoperability between the products of OEM partners. Basis for this is the international standard ISO/IEC 14543-3-1X, which is optimised for wireless solutions with ultra-low power consumption and energy harvesting. More than 400 companies currently belong to the EnOcean Alliance. The headquarters of the non-profit organisation is located in San Ramon, California.
Press Contact
Gina Klute
EnOcean Alliance
T +49 (0)89 67 34 689-76
M +49 (0)160 908 117 29
gina.klute@enocean.com