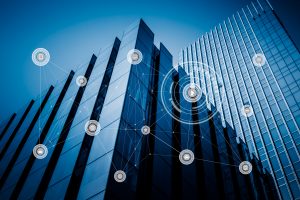 There are multiple contenders when selecting wireless standards for building automation and control. Which one is best for your applications?
by Pete Smith, Head of Sales and Marketing at iaconnects
The two most popular radio standards for building automation are Zigbee and the EnOcean wireless protocol. Other protocols include Bluetooth, Bluetooth Low Energy (BLE) and Z-Wave.
Zigbee is used for building automation applications across a variety of use cases. Key advantages stem from its use of the worldwide 2.4GHz band, providing data transmission rate, range and latency time within the required range. Zigbee is compatible with mesh solutions therefore end-to-end communication can take place via a multitude of intermediate steps. It uses manufacturer-specific applications, and the latest version 3.0 aims to improve operability across devices from different suppliers, including support for self-powered energy harvesting modules through Zigbee Green Power. With multiple component suppliers and an alliance of more than 300 member companies, it is well established in the global market for consumer products such as the Philips Hue system.
Bluetooth tends to frequency hop and has a generally shorter range in comparison with other IoT protocols. However, it is one of the most well-known protocols due to manufacturers of cars, smartphones, tablets and wearable technologies such as headphones integrating Bluetooth into their devices. The standard Bluetooth protocol also uses 2.4GHz radio waves with data packets being sent to one of 79 channels. However, a newer technology called Bluetooth Low Energy (BLE) can be useful for IoT solutions providing lower power consumption, flexibility and scalability. BLE is based on the Bluetooth 4.0 standard has 40 channels, with a bandwidth of 2MHz, guaranteeing a maximum data transfer of up to 3Mb/s.
Z-Wave is becoming an ever more popular IoT protocol. It's a wireless, radio frequency communication technology that's primarily used for IoT after-market home applications. By operating in its own range, Z-Wave rarely suffers from any significant interference problems however, the frequency that Z-Wave devices operate on is location-dependent and is best used within the home and not within the business world.
A formidable alternative
Unlike Zigbee, Bluetooth, BLE and Z-Wave, the EnOcean wireless protocol was designed from the outset with self-powered devices in mind, and a specific focus on building automation.
In Europe, EnOcean operates on 868.3MHz, which is well-suited to transmitting short data packets at a rate of 125 kbit/s. In Europe, EnOcean operates on 868.3MHz, which is well-suited to transmitting short data packets at a rate of 125 kbit/s. EnOcean benefits from having extremely short latency times which, in practice, cannot be detected even when using time-critical devices such as switches. Its indoor range of around 30m is significantly larger than Zigbee. Moreover, the EnOcean protocol is internationally recognized as ISO/IEC standard, so a high degree of interoperability is guaranteed across devices from a broad range of suppliers from the EnOcean Alliance – an open, non-profit organization – boasting more than 400 members, many of them operating in the field of building automation.
EnOcean devices can communicate directly amongst themselves, within an overriding infrastructure. Plus, the integration of EnOcean devices in building automation (DDC system) controllers is facilitated by the provision of EnOcean interfaces by many manufacturers; alternatively, other gateway solutions (e.g. EnOcean-IP, EnOcean-KNX, EnOcean-DALI, etc.) are available. A broad range of sensors for building automation applications is readily available from multiple suppliers.
Going beyond consumer home automation, EnOcean provides an ecosystem that is ideal for professional high quality, high reliable operations, maintenance-free over decades. Installed in millions of buildings during the 20-years since the protocol was standardised, it has delivered its promises of low carbon footprint and low electro-smog.
Use cases define the battleground
The established two key ecosystems can be compared objectively by assessing their ability to meet not only the requirements for a range of use-cases but also the requirements arising in terms of establishing, operating and maintaining the necessary infrastructure.
In his landmark study of technologies for automation and control, Prof. Dr. Michael Krödel from IGT ("Institute for Building Technologies") in Germany observes that wireless standards for integrating sensors in automation and control applications will find ever-growing opportunities in the field of building automation. His study takes as its starting point the requirements for room automation and facility automation on the one hand, and the requirements for "Smart Buildings" on the other. Prof. Krödel considered eight criteria to give an overall score of suitability from 0 to 2.
On this basis, technologies based on unsuitable frequency bands ("KO" criterion) scored 0. EnOcean and Zigbee gained the maximum possible ranking, with data transmission rates, range and latency times well inside the required range.
However, operating at 2.4GHz, Zigbee is susceptible to interference from Wi-Fi networks (which also use 2.4GHz) and from microwave ovens. In addition, academic studies such as those from Prof. Axel Sikora and Prof. Voicu F. Groza raise concerns about Zigbee in the real world, stating that: "There is clearly a coexistence issue in the 2.4GHz ISM-band. … Especially the impact of IEEE 802.11 ("Wi-Fi") stations with high duty cycle against IEEE802.15.4 ("Zigbee") stations may be extremely critical if the same carrier frequencies are selected." (Source: https://computingonline.net/computing/article/view/318)
Moreover, packet error (failure) rates of over 90% can be seen in Zigbee networks if near a Wi-Fi network on the same 2.4GHz channel. By contrast, EnOcean frequency is duty-cycle restricted and virtually free of interference.
Meeting standards for manufacturer dependence
Zigbee did less well on its manufacturer dependence measure since its protocol is only partly standardised. Manufacturer-specific implementation and low multi-vendor interoperability also represent negative evaluation points. Firstly, there are dozens of different versions of Zigbee. Second, many manufacturers use the Zigbee stack, but add their own "flavour" and/or their own way of commissioning so that many solutions are simply not multi-manufacturer interoperable. It is not often possible to simply change a light switch or a light bulb from manufacturer A to manufacturer B – even although they are both the same version of Zigbee.
EnOcean has a standardised protocol and high operability, making it much less dependent on manufacturers and earning the highest score.
Infrastructures are up to the mark
Both protocols are in the middle bracket regarding the suitability of their Infrastructure. For Zigbee, integration of sensor data requires an own infrastructure, though its mesh technology can help to lower costs. On the other hand, EnOcean requires an external backbone infrastructure to integrate sensor data.
Integration of sensor data with building automation controllers (DDC systems) highlights further differences between the two protocols. With EnOcean, sensor data can be integrated with IoT infrastructure solutions such as MobiusFlow®, building automation controllers (DDC systems) either directly or via IP-based networks. Zigbee has no equivalent option for direct connect, so can only be integrated via an IP network.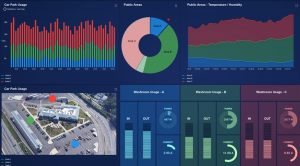 MobiusFlow is an IoT Edge Platform developed over the past 15 years by IAconnects Technology Ltd (iaconnects) to allow non-manufacturer-specific connectivity of the internet of things (IoT) to the cloud or local computers. It can work in the cloud, on closed secure networks, Wi-Fi-based systems or utilise its own data connection (3G/4G) when used in conjunction with IA's custom hardware. You can find out more about MobiusFlow here.
Energy harvesting – a critical advantage
EnOcean's focus on self-powered energy harvesting devices offers a further advantage over competitors in building automation. All its devices fulfil the suitability criterion, whilst other protocols including Zigbee mainly rely on mains or battery power, providing many fewer options with self-powered devices. In another dent to its green credentials, Zigbee is essentially a higher power protocol, needing additional energy for mesh networking, bi-directional communication and various overheads.  This means that there is a higher carbon footprint and also the necessity to pull cables or maintain batteries. The partial exception to this is one version – green power Zigbee – which on its own does not include most of the Zigbee feature set (mesh etc.)
Whether for individual sensors or complete building automation solutions, both protocols must demonstrate solid security. Zigbee and EnOcean are both suitable for data encryption and provide effective security throughout the building network.
When it come to market availability, Zigbee does offer options for building automation applications, whilst the EnOcean Alliance's broad range of sensors provide myriad opportunities for them. In addition, EnOcean and Zigbee both score highly in their provision for measurement and test, offering dedicated equipment and relevant documentation: both readily available and easy-to-use.
The overall result is that EnOcean proved "Eminently suited for building automation applications.", with only its backbone infrastructure requirement marring a perfect score. Using EnOcean sensors alongside MobiusFlow® solutions from iaconnects creates an extremely strong IoT solution for smart buildings.