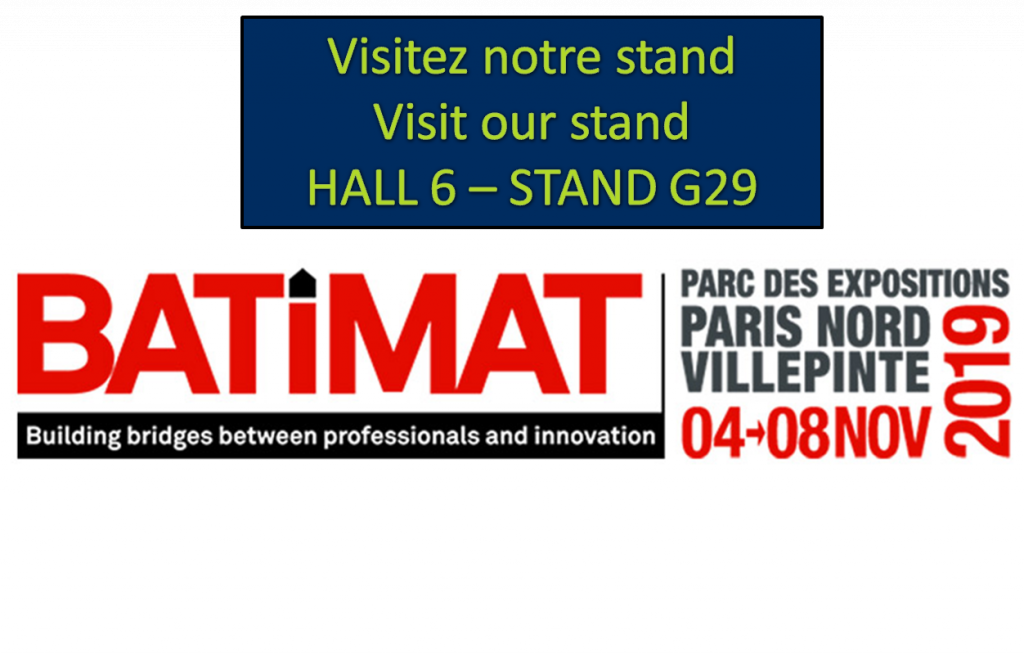 EnOcean Alliance and selected members exhibit maintenance-free wireless sensor solutions for smart buildings and IoT solutions.
San Ramon (USA)/Paris (F). October 23, 2019. Batimat at the Parc des Expositions in Paris Nord Villepinte is the place where construction and architecture professionals meet to share and select the innovative products and solutions for the buildings of today and tomorrow. Co-located with Interclima and Idéobain, Batimat attracts over 1.700 exhibitors and 270.000 visitors. From November 4th to 8th EnOcean Alliance and selected members – including Avidsen, EnOcean, La Croisée DS, Overkiz, Ventilairsec and WIT – will present maintenance-free wireless sensor solutions for intelligent buildings, smart homes and IoT based on the EnOcean wireless standard (ISO/IEC 14543-3-10).
The EnOcean Alliance with more than 400 members worldwide is one of the most successful alliances in the area of smart building monitoring and control. The non-profit organization standardizes and develops intelligent building solutions with integrated energy harvesting technology based on the EnOcean wireless standard (ISO/IEC 14543-3-10).
"The key advantages of wireless control are the ease of upgrading existing buildings and expanding a system at any time. Wireless control systems can even provide greater installation flexibility if units within the system do not require dedicated cabling or batteries for power. Energy harvesting wireless sensors, switches and controls therefore perfectly fit in with the sustainable characteristics of energy-saving building automation systems. This makes EnOcean the most important wireless standard for maintenance-free applications for building automation and IoT," says Graham Martin, CEO, and Chairman of the EnOcean Alliance.
The EnOcean eco-system of self-powered wireless sensor solutions currently consists of 5,000 product variants that build on 1,500 basic products, with new ones being added all the time. Thanks to their standardized sensor profiles, the products can be combined with each other. These interoperable system solutions lower installation and maintenance costs and provide significant benefits when it comes to energy efficiency, security, and comfort. Using EnOcean based maintenance-free wireless sensors, data can be provided in real-time via an IoT gateway to an IoT cloud platform where the data is analyzed, whilst a dashboard visualizes the results for decision-makers, planners and building owners. More than one million buildings in 37 countries now have wireless networks of this type, making EnOcean the international reference technology when it comes to wireless standards for building automation.
Press contacts
Evelyn Gilde-Back
EnOcean Alliance
M +49 (0)176 636 13 964
press@enocean-alliance.org