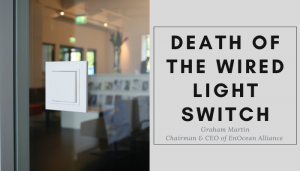 The writing is on the wall for the wired light switch. Most of the world's top manufacturers now feature a wireless, batteryless switch option in their range, many of which are powered by EnOcean technology. Legrand, one of the world market leaders in light switches, is the most recent to join the fold, launching a new batteryless and wireless switch last month. The momentum behind this technology has been quietly building in the background for the last 20 years, but what is powering the sudden upsurge in interest?
Installers driving interest
Installers are partly responsible for the increased popularity in wireless, batteryless switches. Experience from industrial and commercial buildings shows that traditional fixed installations are labour intensive, inflexible and costly. The key disadvantage of wired data infrastructure is its inherent inflexibility – its need for dedicated wiring makes quick reconfiguration difficult. Simple tasks such as moving a light switch to a different location require significant construction work, with the time and cost involved. However, installers are becoming increasingly receptive to the commercial advantages of installing wireless switches. Speedier installations mean the same team can accomplish more installs, improving the economics of their business. Margins improve at the same time as the cost to the customer reduces, which increases the size and value of the market, offering further motivation for other installers to catch on to the trend.
Simplified facilities management
End users are also embracing the benefits of going wireless. The devices can be placed anywhere in the building, even at locations that are difficult to access and, once installed, there are no requirements for maintaining the switches, such as to change dead batteries. Wireless switches allow the system to be expanded to suit changing user needs, plus the ability to fit them on any surface saves time and money in installation and operation, whilst enabling quick and easy retro-fitment to older buildings. The amount of cable saved by deploying wireless instead of wired technology is astonishing, as is the contribution to sustainability that these buildings make. Further, impressive CO2 savings can be made during their use.
An accurate and readable means of measuring these savings is vital for facilities managers, not least to evaluate the RoI achieved by the installation. All raw data supplied by the sensors and actuators can be used locally but can also be combined in the cloud enabling in-depth analysis uncovering further ways to optimise services and increase efficiency. This offers facilities managers the valuable opportunity to embrace smart building technology. Thanks to the sensors, the smart building can monitor the status of its environment and use this data to make any necessary adjustment or for analytical purposes. Data is gathered and processed by a cloud-based IT platform, combining the physical space with digital services and analytical tools. A dashboard can then present the data in a user-friendly way for managers and decision-makers to view and act upon.
The benefits of battery-free
One key challenge when moving to truly wireless solutions is the question of how to provide power to these devices. Batteries come with associated costs and environmental waste issues, as well as the time spent replacing them. Energy harvesting technology is a much more sustainable alternative: Energy harvesting is the use of energy harvested from the switch operation itself to power the battery-free switch. Kinetic energy, pressure, light, and temperature differences can all be used to generate sufficient electricity. Energy harvesting switches do not need to be wired in, instead of sending a wireless signal to the receiver in or near the light or DIN rail fitting. These solutions help optimize the utilization of buildings, create new service models and make buildings more flexible, energy-efficient and altogether more cost-effective with a network of ultra-low power wireless signals such as EnOcean, Green Zigbee or Bluetooth Low Energy. The EnOcean standard is based on a Sub 1 GHz radio, with approximately double the range of Zigbee or BLE buildings and less susceptible to interference from Wi-Fi networks of the same 2.4 GHz frequency.
Stronger together
The 400-strong EnOcean Alliance offers an interoperable ecosystem of solutions and encompassing other forms of energy harvesting. Solar (room light) and temperature differences can also be used in the complete eco-system to power sensors – such as occupancy sensors and lux sensors. With twenty years of experience and growth in this market, the non-profit organization promotes intelligent building solutions with integrated energy harvesting technology communicating over the EnOcean wireless standard (ISO.IEC 14543-3-10/11). More than one million buildings over the world have wireless networks of this type, making EnOcean the international reference technology when it comes to wireless standards for building automation. Scaling to complete building automation systems for home or office, the EnOcean Alliance offers the advantages of an extensive and established ecosystem of interoperable self-powered wireless sensor solutions that are available to intelligent buildings worldwide.
History repeats itself
It is interesting to compare the transition to wireless switches with the changes that have happened in the telephone industry. Cord telephones, produced for over 100 years, are today largely replaced by cordless and cell phones, given the obvious advantages of wireless technology in this area. We now have the same trend with light switches, leading to the question of why we're still using 100-year-old outdated, expensive, environmentally harmful technology when a fantastic alternative is at our fingertips. We are still paying too many people too much money to open walls and pull 4 meters of resource-intensive cable to every single light switch when there is a proven lower cost, lower effort, environmentally friendly solution available and promoted by market leaders.
With the popularity of these wireless, batteryless devices set to grow even further, it seems that even more facilities will soon be 'making the switch.'