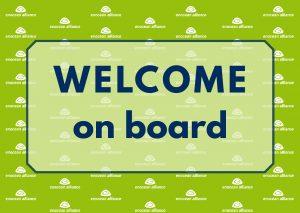 San Ramon, CA, USA – March 1st, 2021 – Michael Tennefoss, Vice President of IoT and Strategic Partnerships at Aruba, a Hewlett Packard Enterprise company, joins the EnOcean Alliance Board as Officer and Vice Chairman North America for the upcoming two years.   John Corbett, a semiconductor industry veteran with 15 years of experience in the Zigbee and EnOcean eco-systems, joins the Board as Officer and Vice Chairman of EMEA.  Kazuyoshi Itagaki, an electronic and telecom industry veteran, remains on the Board as an Officer and Vice Chairman of Asia-Pacific.
The EnOcean Alliance is an international association of over 400 leading companies in the building and IT industries founded in 2008. The non-profit organization is committed to enabling and promoting interoperable, maintenance-free and proven eco-systems based on the wireless EnOcean radio standard (ISO/IEC 14543-3-10/11). Its Board of Directors unites representatives of leading international solution providers in the areas of building automation, Smart Home and Smart Spaces, including BSC Computer, Eltako, EnOcean, IBM, Microsoft, PEHA a Honeywell company and T-Systems Multimedia Solutions.
Aruba joined the EnOcean Alliance in July 2020. The company, based in Santa Clara, California, is a leading provider of AI-powered networking solutions for the campus, data center, branch and remote worker applications. When used together, the Aruba edge infrastructure and EnOcean energy harvesting wireless solutions enable customers to create hyperaware smart buildings that are cognizant of, and responsive to, changing operating environments and occupant needs.
Graham Martin, Chairman and CEO of the EnOcean Alliance, explains: "Our collaboration opens up exciting new market opportunities for the Alliance members and the Aruba community by combining Aruba's extensive wireless experience and expertise with the flexibility of energy harvesting wireless sensors.  With Michael Tennefoss as new Officer and Vice Chairman North America, we are further strengthening our partnership and taking it to a new level."
The EnOcean Alliance has also expanded at the membership level. Six new companies have joined since the beginning of the year: ZF, TCS and Elero from Germany, the Niko Group from Belgium as well as Yamauchi (Japan) and Poé-tic (France). The organisation is thus continuing its dynamic growth despite the ongoing Coronavirus crisis.