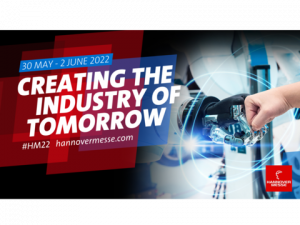 San Ramon, CA – 11.05.2022. Hannover Messe International (HMI) 2022 is the world's leading industry trade fair and a source of inspiration for a globally and digitally networked industry. Under the guiding theme of Industrial Transformation, the event showcases game-changing solutions and technologies that are disrupting and transforming the industry. From May 30th to June 2nd, EnOcean Alliance promoters EnOcean,  Microsoft, and T-Systems MMS will demonstrate the benefits of the interoperable EnOcean ecosystem for industrial, commercial, and retail environments based on the EnOcean wireless standard (ISO/IEC 14543-3-10/11).
With more than 400 members worldwide, the EnOcean Alliance is one of the most successful alliances in energy monitoring and control, utilization optimization, and health & wellness improvement.
Relevant use cases for Smart Spaces include energy management systems according to ISO 50001, cloud shopfloor intelligence, office occupancy & optimization, cleaning on-demand, and air quality monitoring. Smart Spaces provide more safety, comfort, and efficiency while saving costs.
Health & Wellness: 15% increase in employee motivation & productivity, 15% reduction in absenteeism
Space optimization: 25% to 40% reduction in space and operating costs
Energy & CO2 savings: 20% to 30% in commercial properties (typically)
Construction time & cost: saving up to 30% in new builds, 80% in retrofits
Sustainability: maintenance free for decades, wireless, battery-free
Safety of buildings (e.g. social distancing, air quality)
At HMI 2022 the EnOcean Alliance will also be showing IoT solutions using the energy harvesting wireless sensors and switches sending data via Aruba Access Points to a local server or cloud-based solutions. Aruba and EnOcean is the perfect partnership enabling quick and easy retrofits of existing buildings to become smart without any disruption of the building's operation. Simply stick the sensors wherever required and plug in a USB receiver into the Aruba Access Points and you are ready to collect and analyze your data. Multiple EnOcean Alliance Members are participating in the Aruba Partner Program.
The EnOcean Alliance Booth can be found in the Digital Ecosystem Hall 5 (E36, booth 09).
About EnOcean Alliance
The EnOcean Alliance is an international association of leading companies in the building and IT industries founded in 2008. The open, non-profit organization is committed to enabling and promoting interoperable, maintenance-free, and proven eco-systems based on the wireless EnOcean radio standard (ISO/IEC 14543-3-10/11). With their decades of experience, EnOcean Alliance members strive to co-create a healthy, safe, and sustainable environment in smart homes, intelligent buildings, and smart spaces for the benefit of all. The EnOcean Alliance headquarters are located in San Ramon, California.
Press Contact
Evelyn Back
EnOcean Alliance
M +49 (0)176 636 13 964
press@enocean-alliance.org